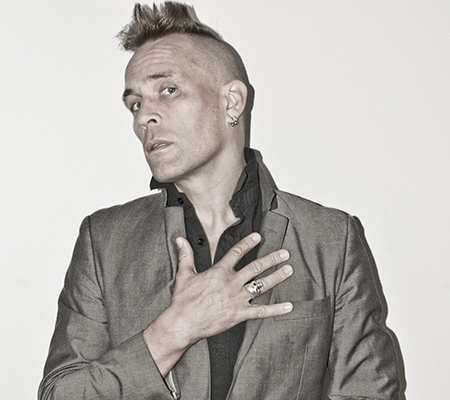 There they came spunking out of the punk rock wars, eyes screwed up with righteousness, over the barricades and tumbling into the mainstream—John Robb was just one of them—on a one man guerilla raid against boredom.
He was born in Blackpool, raised by punk and set free to roam the world with a high decibel hard-on for the freaky side of modern culture.
He spent the eighties turning it up to 11 out of 10 in the molten dayglo musical freak show of the Membranes who toured the world and released lots of noisy pissed off records that got lots of great press and started loads of mini riots at gigs which has all been documented in his recent book, Death to Trad Rock.
He became a journalist with fierce, shrapnel prose and a keen eye for what was happening; he had already learned to move fast in the fanzine days with his zine Rox—part of the legendary "clique versus the bleak" fanzine scene.
He wrote for Sounds, enthusing punk rock whilst discovering Nirvana, Madchester, chunks of acid house, grunge, noiseniks and American post hardcore noise whilst inventing words like "Britpop" on the way.
In the '90s, he wrote more books and became a TV pundit regular gobbing off about shit culture or providing musical insight into the holy stuff.
In the 21st century, this has continued: presenting TV series such as a ten part history of punk and writing more books, including Punk Rock- An Oral History, that became one of the definitive best selling statements on the form and Death To Trad Rock, a key book on the discordant '80s noise underground that included bands like The Ex. He has also fronted punk rock crew Goldblade, toured the world and occasionally played gigs with a reformed Membranes.
He is currently a vegan, punk rock, soul power brother, a black belt in musical arts who has just set up a record label, internet radio and TV station and multi media website, http://www.louderthanwar.com and writes thousands of words a day…
---
Punk Rock: An Oral History
SKU: 9781604860054
Author: John Robb • Introduction by Henry Rollins
Publisher: PM Press
ISBN: 9781604860054
Published: 7/2012
Format: Paperback, ePub, PDF, mobi
Size: 5.5 X 8.5
Page count: 584
Subjects: Music-Punk
Praise
"Its unique brand of energy helps make it a riot all its own."
—Harp Magazine
"John Robb is a great writer…and he is supremely qualified in my opinion to talk about punk rock."
—Mick Jones, The Clash
"John Robb is as punk rock as The Clash."
—Alan McGee
---
Forewords by John
A Mix of Bricks & Valentines: Lyrics 1979-2009
SKU: 9781604864991
Author: G.W. Sok • Foreword by John Robb
Publisher: PM Press
ISBN: 9781604864991
Published: 9/2011
Format: Paperback, ePub, PDF, mobi
Size: 5.25 x 7.5
Page count: 384
Subjects: Music-Punk, Poetry
Praise
"Lyrically, The Ex is also in a class of its own. This is rebel punk's finest hour." —SF Weekly
"Deep intellectual analysis of geopolitics and fearless insertion of their socio-anarchist perspective is a bold, defining path drawn by The Ex. Few of their peers, either in their nascent days in the late '70s and early '80s, or now amidst all the emo-punk caterwaulers, have equaled this loud, defiant cry." —Pop Matters
"There has always been space in The Ex's music, space filled by singer G.W. Sok with socially engaged lyrics, which, from the very start, transcend by far the sloganesque tongue of most of his punk peers." —HUMO
"Lyrics with insightful socio-political standpoints. They are influential, provocative, creative, perceptive, and above all defy categorization. Everything punk & art intended to be from the start prior to being commodified." —KJFC

---
Book Events
---
Reviews
---
Interviews
---
Mentions
---
Blog