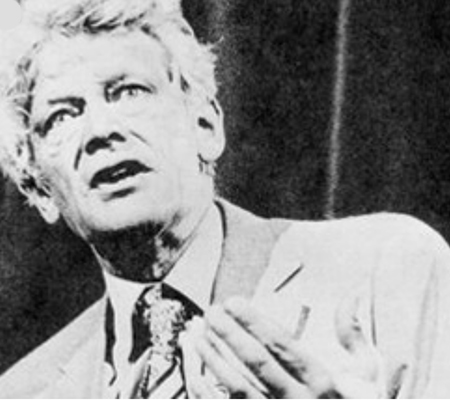 E.P. Thompson is often hearlded as the greatest English historian of the twentieth century. He was a dedicated peace activist and a radical visionary.
E.P. Thomspn joined the Communist Party during the Second World War, like his brother, and returned from the service to complete a degree in history at Cambridge.
In 1948 he married Dorothy Towers, who remained his collaborator and companion to the end. While an extra mural Lecturer at Leeds, he a produced a major reinterpretation of William Morris, William Morris: Romantic to Revolutionary (1955), and then his most famous and monumental work, The Making of the English Working Class (1963).
About William Morris:
William Morris—the great 19th century craftsman, designer, poet and writer—remains a monumental figure whose influence resonates powerfully today. As an intellectual (and author of the seminal utopian News From Nowhere), his concern with artistic and human values led him to cross what he called the 'river of fire' and become a committed socialist—committed not to some theoretical formula but to the day by day struggle of working women and men in Britain and to the evolution of his ideas about art, about work and about how life should be lived.

Many of his ideas accorded none too well with the reforming tendencies dominant in the Labour movement, nor with those of 'orthodox' Marxism, which has looked elsewhere for inspiration. Both sides have been inclined to venerate Morris rather than to pay attention to what he said.
---
William Morris: Romantic to Revolutionary
SKU: 9781604862430
Author: E.P. Thompson • Foreword by Peter Linebaugh
Publisher: PM Press
ISBN: 9781604862430
Published: 2/2011
Format: Paperback, ePub, PDF, mobi
Page count: 880
Size: 5.5 x 8.5
Subjects: Biography, Politics
Praise
"Two impressive figures, William Morris as subject and E.P. Thompson as author, are conjoined in this immense biographical-historical-critical study, and both of them have gained in stature since the first edition of the book was published… The book that was ignored in 1955 has meanwhile become something of an underground classic—almost impossible to locate in second-hand bookstores, pored over in libraries, required reading for anyone interested in Morris and, increasingly, for anyone interested in one of the most important of contemporary British historians… Thompson has the distinguishing characteristic of a great historian: he has transformed the nature of the past, it will never look the same again; and whoever works in the area of his concerns in the future must come to terms with what Thompson has written. So too with his study of William Morris."
—Peter Stansky, The New York Times Book Review
"An absorbing biographical study… A glittering quarry of marvelous quotes from Morris and others, many taken from heretofore inaccessible or unpublished sources."
—Walter Arnold, Saturday Review

"Thompson's is the first biography to do justice to Morris's political thought and so assemble the man whole… It is not only the standard biography of Morris; it makes us realize, as no other writer has done, how completely admirable a man this Victorian was—how consistent and honest to himself and others, how incapable of cruelty or jargon and, above all, how free."
—Robert Hughes, Time Magazine
---
---
Book Events
---
Reviews
---
Interviews
---
Mentions
---
Blog