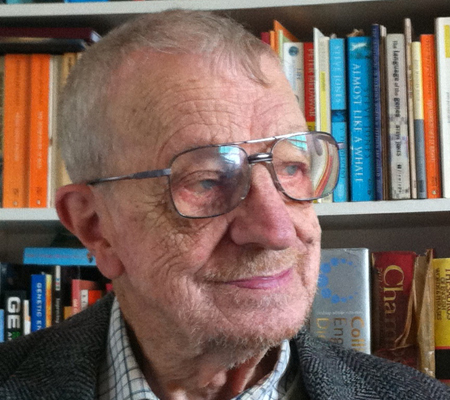 Donald Rooum, born 1928, became an anarchist in 1944 and has contributed articles to the anarchist paper Freedom since 1947. He studied graphic design in Bradford, England, and his cartoons have been published in the British press since 1950. His editorial cartoons have appeared in Peace News since 1962. His strip series "Wildcat" has appeared in Freedom since 1980, and "Sprite" in The Skeptic since 1987. In 1963, he was charged with carrying an offensive weapon, but the prosecuting officer made a mistake in planting the evidence, and in working to save his own skin Donald accidentally initiated the celebrated "Challenor case," a conspiracy among police officers to discredit nonviolent demonstrators.
---
Wildcat Anarchist Comics
SKU: 9781629631271
Author and Illustrator: Donald Rooum • Foreword by Jay Kinney • Colorist: Jayne Clementson
Publisher: PM Press
ISBN: 9781629631271
Published: 7/2016
Format: Paperback, mobi, ePub, PDF
Size: 7 x 10
Page count: 128
Subjects: Art-Comics/Politics-Anarchism
---
Praise
"It is not only a work of genius, but of great originality, using outrageous knockabout comedy to convey serious ideas . . . this strangely effective technique of using utter farce to get below intellectual defences is successful in getting us to face challenges that no mere political pamphleteering could do. And we anarchists, with our eyes open, must accept that we too can be ridiculous in the passionate pursuit of our ideals."
—Tony Gibson, Freedom
---
What Is Anarchism?: An Introduction, 2nd Ed.
SKU: 9781629631462
Author and Illustrator: Donald Rooum • Edited by Vernon Richards • Foreword by Andrej Grubacic
Published: PM Press
ISBN: 9781629631462
Published: 11/2016
Format: Paperback, mobi, ePub, PDF
Size: 5.5 x 8.5
Page count: 160
Subjects: Politics-Anarchism/Art-Comics
Praise
"What Is Anarchism? is a classic. It brings together a marvellous selection of inspiring texts with a clear, comprehensive introduction—now updated—to provide a brilliant account of the cares, concerns and commitments that animate anarchist politics and activities of British anarchists since 1945."
—Ruth Kinna, author of Anarchism: A Beginner's Guide
---
Praise
Book Events
---
Reviews
---
Interviews
---
Mentions
---
Blog