By Luke O'Neil
Welcome to HellWorld

This piece was sent out as a part of today's full Hell World newsletter which you can find here:
Today is the release of Black Metal Rainbows, a compilation of100+ queer, trans, leftist, anarchist and antifascist black metal, noise, and electronic artists from around the world. Proceeds of the album will go to support LGBTQ+ groups including The Trevor Project, Mermaids, Minus 18, The International Lesbian, Gay, Bisexual, Transgender, Queer and Intersex (LGBTQI) Youth & Student Organisation.
In January a book of the same name will be published by PM Press featuring writing by Drew Daniel, Kim Kelly, Laina Dawes, Espi Kvlt, Hunter Hunt-Hendrix, Svein Egil Hatlevik, Eugene S. Robinson, Margaret Killjoy and others.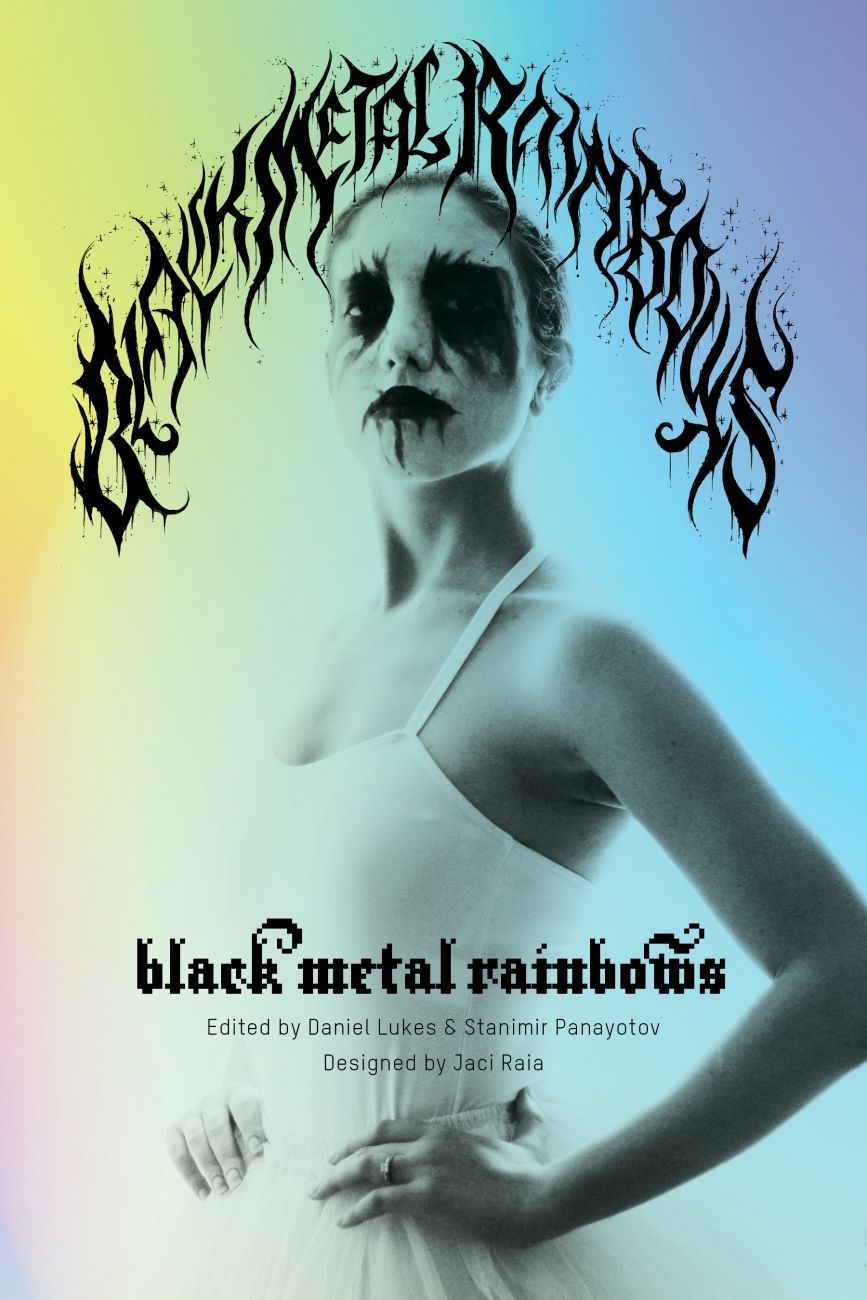 I asked Daniel Lukes, one of the organizers behind the compilation and editors of the book to write a piece explaining what it's all about.
Please subscribe to support this newsletter if you can thank you.
Black Metal Is ♥
by Daniel Lukes
Black metal has not traditionally been known for its social conscience. Its notorious second wave was pioneered by a bunch of edgy middle class Scandinavian kids who thought their society's Nordic brand of social democracy was too soft and needed spicing up with some Nietzschean edgelordery, arson, and murder. But that was thirty years ago and black metal has changed a lot since then: the once grim and frostbitten metal subgenre has evolved, and is now a hotbed of queer, leftist and antifascist energy and creativity.
I've always loved black metal that deviated from the norm and did something different, whether it was Dödheimsgard's multicolored corpsepaint and cosmic electronic experimentation, Satyricon's sleek transition from medievalism to industrial filth, or Ulver's headlong trip into urban moodiness and dark abstract pop. The late 1990s, when I came of age, were a golden age of experimental black metal, with 1997 being, as Terrorizermagazine put it at the time, "that Fabled Year When It All Went Weird."
The Black Metal Rainbowsproject originated as a dream, which in turn was based on a New Year's Eve party organized by the British band Akercocke in London in 2002. Thus the idea: what if black metal was a party? The first iteration of this was the "Black Metal Theory Symposium" Coloring The Black, held at Gallery X in Dublin in 2015, with an idea to queer up and add some color to the rather staid and self-important para-academic genre of Black Metal Theory. The symposium featured a memorable contribution from a corpse-painted Drew Daniel (of Matmos/The Soft Pink Truth) reading his paper "Putting the Fag Back in Sarcofago," a color-the-logo competition from "Lord of the Logos" Christophe Spazjdel, fresh off designing a logo for Rihanna, and lots of pushback (and death threats) from Nazis. In other words, a good time.
After a well-needed breather, the next step was to coalesce that energy into a book: Black Metal Rainbows. It will be released on PM Press in January 2023, containing 80+ artists and writers including Kim Kelly, Margaret Killjoy of Feminazgûl, Ravenna Hunt-Hendrix of Liturgy, Laina Dawes (author of What Are You Doing Here? A Black Woman's Life and Liberation in Heavy Metal), Eugene S. Robinson of Oxbow, and many more, all wrapped up in the amazing design work of Jaci Raia.
If black isn't an actual color, but all the colors combined, then it stands to reason that the rainbow is already in there, itching to get out. One of our points with the book is that metal has always been queer, has always been anti-authoritarian, and black metal is no different: its co-optation by the fascists of the second and third waves is the perversion. Satan was a rebel against God, not some fascist bootlicker. Precisely because black metal is crawling with Nazis is what makes the scene so ripe for being reclaimed from them, for what Deleuze called the process of de/reterritorialization. Yet if you think we're trying to make black metal a "safe space" or fill it purely with unicorns and fluffy bunnies (not that there's anything wrong with that, black metal cats are big business) then you couldn't be more wrong. As French solo black metal artist Toul en Ihuern writes: "Wherever you are from, don't be shy, send hate back to the people that send it first."
Black metal is a dark carnival, but the carnival has power precisely because it is a place of subversion, turning the king on his head, and the crucifix upside-down. If you think black metal doesn't have a sense of humor or know how to laugh (or laugh at itself), then I invite you to revisit Immortal's classic "Call of the Wintermoon" video, especially the Benny Hill version.
Putting together a compilation album to accompany the book was a no-brainer, but I had no idea it would balloon to such a monstrous size. At 130 tracks and 10+ hours long, the Black Metal Rainbowscompilation, released on Bandcamp Friday November 4, 2022, is a show of strength: 100+ queer, trans, leftist, anarchist, antifascist and allied bands from the global underground rising in support of LGBTQ youth, who are currently the victims of a new wave of violence and repression whipped up by fascist and conservative forces worldwide.
The variety of the music on display is breathtaking: people assume RABM means blackened grind, and though there's plenty of that, there is also a dizzying array of everything from grim and depressive to epic and soaring black metal, blackgaze, dungeon synth, electronica, ambient noise, and avant-experimentalism, even dark pop (The Depeche Mode-ish Silence Enjoyer remix of Caïna's "Take Me Away from All this Death" is to die for). Put simply, there is leftist metal and extreme music for everyone! The passion, camaraderie, and sense of community created by the artists involved in this project has been humbling and heartwarming. And who wouldn't want to be on a compilation with Merzbow?
When I grew up in the 1980s (the era of Band Aid singing "feed the world") there was this notion that if music (or art) was socially-conscious music or well-meaning, then it also must be aesthetically dull and uninteresting as well. One of our goals with Black Metal Rainbows (both the book and album) has been to disprove that old chestnut. Black metal can be flamboyant and fabulous, it can sparkle and glitter in the gloom, darkly glowing and refracting multiplicities. It can be a vehicle for all forms of exploration and identity beyond the clichés of the nihilistic white male. Black Metal Rainbows does not reinvent the black metal wheel, but it opens a portal into what is arguably a golden age of pluralistic black metal: and we are here to celebrate that.
"Black metal is the ultimate outsider musical genre," writes KW Campol of anti-oppressive doom duo Vile Creature. "So it makes sense that us queers and weirdos would build a home within its barren fields. Black Metal Rainbows is a necessary anthology documenting the strong anti-oppressive backbone being woven into black metal's very fabric."
Black metal is community, black metal is care. Black metal is beauty and black metal is pain. Black metal is ♥.
Daniel Lukes has written for metal and rock magazines Terrorizer, Kerrang!, Decibel, and Helvete: A Journal of Black Metal Theory. He has a PhD in comparative literature from New York University, and is the coauthor of Triptych: Three Studies of Manic Street Preachers' The Holy Bible (Repeater Books). He lives in Montreal, where he likes to disappear into the winter.