By J. Kingston Pierce
Killer Covers
December 5th, 2019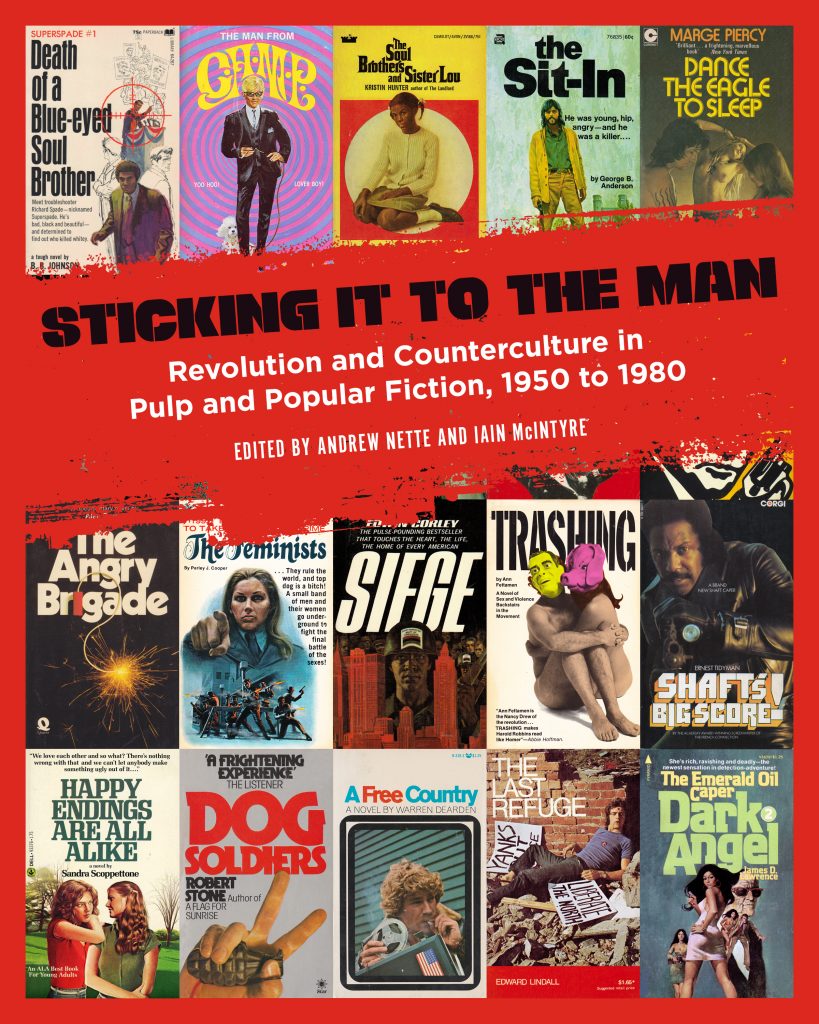 "As has been widely celebrated, derided, and mythologized, the 1960s was a time of significant social and political change across the world," write editors Andrew Nette and Iain McIntyre in their diversely entertaining new book, Sticking It to the Man: Revolution and Counterculture in Pulp and Popular Fiction, 1950 to 1980 (PM Press). "Decolonization, second-wave feminism, mass opposition to conscription and the Vietnam War, Black Power, wildcat strikes, campus ferment, lesbian and gay liberation, a flood of 'hip and groovy' consumer items"—all of these, they say, "swirled together in a surge of radical and rebellious ideas and practices challenging everyday life and existing structures."

During that same era, paperback novels witnessed their heyday, offering inexpensive distractions ("particularly in the fields of crime, erotica, thrillers, and romance"), but also often reflecting the cultural shifts and political uncertainties of the time. Subjects that had previously been considered taboo—such as "prostitution, interracial relationships, and homosexuality"—became creative fodder for the authors of those mass-marketed softcover works. "With some publishers happy to push the envelope to make their otherwise niche books stand out," notes Steve Holland in his Bear Alley review of Sticking It to the Man, "writers found their subjects in the headlines of newspapers—not always the best source of accurate information, but certainly a good guide to what people were talking about and what authors who could turn a book around quickly should be writing about to take advantage of the zeitgeist."

It's that intersection of societal upheaval and more or less literary fecundity that Nette and McIntyre, together with their 24 other contributors, investigate in this beautifully illustrated new paperback, a follow-up to their 2017 release, Girl Gangs, Biker Boys, and Real Cool Cats: Pulp Fiction and Youth Culture, 1950 to 1980. The text covers everything from the works of Chester Himes (A Rage in Harlem) and the proliferation of college campus revolt fiction to Vietnam War/antiwar yarns, vigilante thrillers, and pulpish tales featuring Aboriginal Australians. (The editors are both based in Melbourne, so have broadened their book's perspective to encompass not only American and British stories, but also some that were once popular Down Under.) E.R. Braithwaite's autobiographical 1969 novel, To Sir, With Love, is the subject of an essay here, as are other individual books such as Marc Olden's Black Samurai (1974), Kristin Hunter's The Soul Brothers and Sister Lou (1968), and Edward Abbey's The Monkey Wrench Gang (1975).

Ernest Tidyman's famous black series private eye, John Shaft, wins the attention in these pages of not merely one, but two different contributors: Steve Aldous, who gave us 2015's The World of Shaft, and Harlem native Michael A. Gonzales. And California educator Bill Mohr offers a fond recollection of Joseph Hansen, who created gay gumshoe Dave Brandstetter (Fadeout, 1970). But of course it's the Sticking It to the Man articles examining less-familiar writers to which I am most drawn. People such as Joseph Gober Nazel (the man behind the Iceman series), Nathan Heard (Howard Street, 1968), and Roosevelt Mallory, who gave readers African-American series hit man Radcliff and is one of two subjects tackled by sometime Rap Sheet contributor Gary Phillips. His second contribution to the book looks back at Virgil Tibbs, I Spy's Alexander "Scotty" Scott, killer-for-hire Larry Jackson
(Daddy Cool), and other "archetypes of black male characters in mystery and crime novels."

(Left) Bad Day for a Black Brother (1970); art by Mitchell Hooks.

Even I managed to get into the act. Nette kindly invited me to submit a 2,500-word profile of Joseph Perkins Greene (1915-1986), a Spokane, Washington-born songwriter and composer who, under the pseudonym B.B. Johnson, concocted a six-book series (beginning with 1970's Death of a Blue-Eyed Soul Brother) that starred Southern California football player-turned-troubleshooter Richard Abraham Spade, aka "Superspade." As I explain in the article, Greene's concupiscent protagonist—"the spitting image of Hollywood star Cary Grant, 'but a bit darker'"—briefly rivaled Shaft as "the baddest, blackest, and most beautiful crime solver of the 1970s." My essay for this book is an expansion of a piece I wrote for Killer Covers four years back.

While this book's prose is certainly intriguing and informative, it's the illustrations that really make it special. More than 350 vintage book covers are peppered throughout the volume, many of them boasting striking artwork. This follows the pattern set by Girl Gangs, Biker Boys, and Real Cool Cats. I only wish the publisher and editors had made an effort, whenever possible, to identify the painters behind those handsome façades. I've done my best to credit the artists in captions accompanying the 13 fronts embedded in this post, all of which also appear in Sticking It to the Man.


The Dark Angel series, by James D. Lawrence (who penned many of the early Hardy Boys mysteries): Dream Girl Caper, The Emerald Oil Caper, The Gilded Snatch Caper, and The Godmother Caper, all published by Pyramid in 1975.


A Cold Fire Burning, by Nathan C. Heard
(Simon & Schuster, 1974).


Havana Hit, by "Mike Barry," aka Barry N. Malzberg
(Berkley Medallion, 1974).


The Last Shaft, by Ernest Tidyman (Corgi UK, 1977).

For readers and collectors of old-time paperbacks, as well as for anyone who's curious to learn more about how cultural upheavals of the mid-20th century were mirrored in that period's often-now-forgotten novels, Andrew Nette and Ian McIntyre's new book is an essential purchase. Or perhaps a great gift idea to suggest to friends and family members. Isn't there some kind of present-oriented holiday coming up later this month?

The editors state, in their introduction, that they have yet a third non-fiction study, this one showcasing experimental and offbeat science fiction—tentatively titled Dangerous Visions & New Worlds: Radical Science Fiction, 1950 to 1980—due out sometime next year. I've already made a bit of room on my bookshelves, right next to their other two volumes, where it can be accommodated.

READ MORE: "Sticking It to the Man," by Paul Bishop (Bish's Beat); "A Groovy Pulp-in: Sticking It to the Man," by Richie Narvaez (Mystery Tribune); "Blowback: Late 1960s and '70s Pulp and Popular Fiction about the Vietnam War," by Andrew Nette (CrimeReads); "Get Radcliff!: The Search for Black Pulp's Forgotten Author," by Gary Phillips (CrimeReads).