By Seth Sandronsky
Earth Island Journal
Spring 2017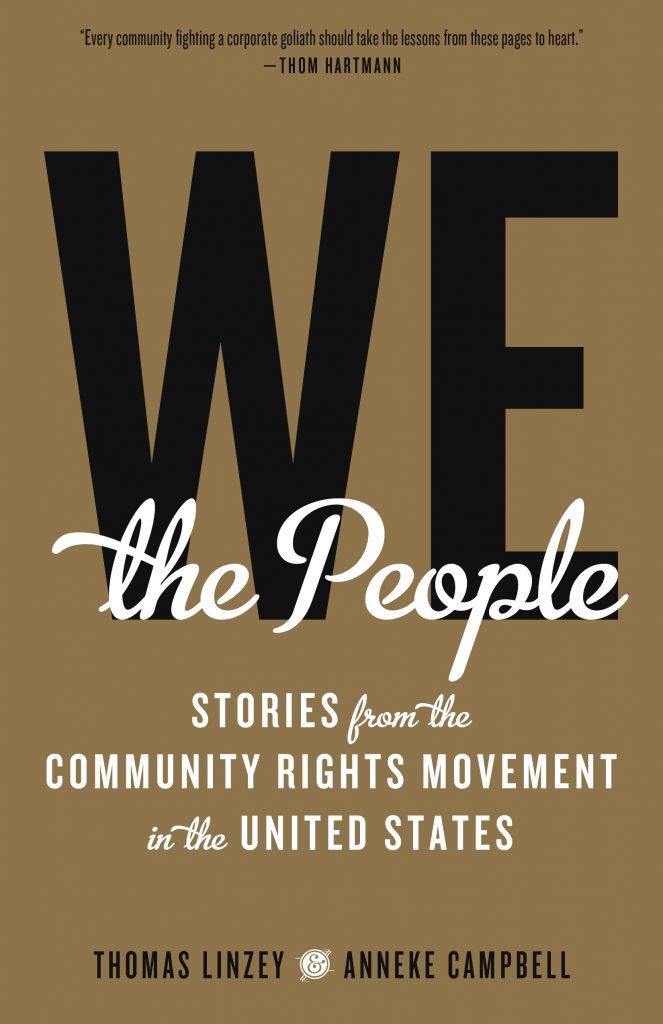 We the People: Stories from the Community Rights Movement in the United States by Thomas Linzey and Anneke Campbell reveals what is at stake in governance struggles playing out across the country. Who are those taking on the corporate entities seeking dominance over people and nature? And how are they doing it?
Answers unfold in seven crisp chapters as the authors delve into the growing community rights movement in the United States. They draw powerful portraits of communities that have faced threats from environmentally destructive corporate projects and responded by passing local legislation to ban them. As I see it, the community activists featured in the book prefigure the water protectors opposing the Dakota Access Pipeline at Standing Rock in North Dakota. Like the water protectors, they are coalescing around issues that affect their daily lives to push for policies and politics that advance human and environmental well-being rather than corporate profits.
The under-reported stories in the volume flesh out how a fledgling democracy movement is shaping up. Linzey and Campbell deliver a David versus Goliath narrative of a clash between people and corporations. The latter are "persons" under the law, legal fictions with the "right" to destroy nature. The current climate emergency is a leading example of the results. Thanks ExxonMobil!
Much is at stake in this movement to change that current arrangement and replace it with self-governance. From Pennsylvania to Oregon and points in between, the authors introduce us to ordinary people organizing and confronting the "complex layering of laws" that removes the rights of nature and living human beings and allows corporate entities to do business in enviornmentally damaging activites like hydraulic fracking, mining, waste-dumping, and factory farming. These communities have recognized that the law has "legalized" the damaging actions of corporations, while providing no recourse against harm. So now they are fashioning a new system that makes local control legal.
We meet activist Cathy Miorelli, a nurse and elected official in Pennsylvania's Tamaqua borough, who, along with her community allies, faces lawsuits from companies that spew pollutants from coal burning power plants as she works for home-rule to replace corporate rule.
In Pittsburgh, activists joined forces to pass an ordinance banning natural gas drilling and elevating the rights of ecosystems and nature, becoming the first major American municipality to achieve that. To wit, "The Pittsburgh law contains provisions that eliminate corporate 'personhood' rights within the city for corporations seeking to drill," the authors write.
This growing community-rights movement is more than a temporary mobilization to vote for a candidate or a ballot measure. In fact, the stirring stories of citizens organizing and mobilizing suggest the rise of a systemic, dare I say, revolutionary, movement to achieve popular sovereignty over quality of life and public health issues such as clean air, land, and water.
The grassroots process of humanizing what author Noam Chomsky calls our "corporate-run and propaganda managed democracy" is an arduous task. It involves people learning to develop structures of self-governance that weaken the prevailing economics and politics of the bottom line. Witnessing what happens when people depart their comfort zones to say "no!" to predatory businesses, when working families fend off attacks on their community from corporate actors and their political cronies, can be incredibly inspiring.
The Community Environmental Legal Defense Fund, run by Linzey, plays a central role in the book. Its Democracy School aids citizens in city halls, town meetings, public hearings, and courtrooms. Workshops attract groups such as Black Lives Matter and the United Auto Workers. The fruits of this shared labor, which features community charters and ordinances of self-government, take up an appendix. This is the real deal, folks.
Make no mistake. We the People details a class conflict over the definition of democracy, with elected officials representing the interests of corporate entities against people striving for a system of self-government. It's an uphill battle, but a winnable one.
Back to Thomas Linzey's Author Page | Back to Anneke Campbell's Author Page